HEALTH
Atalante: First cobot in Italy to let patients with spinal and brain injuries walk "arms free".
Enter Villa Beretta, the garrison of the Valduce Hospital in Como, which stands out for the excellence of its medical-rehabilitative care programs and is located in Costa Masnaga, in the province of Lecco, is synonymous with a step into the future. It is actually available to patients at the center Atalantaa new exoskeleton designed and manufactured by the French company Wandercraftwhat enables people with spinal or brain injury To carry out rehabilitation by walking without leaning on a support.
Atalante is a cobot (and not a robot)
That is the Lecco structure the only device present in Italy. "Unlike a robot that replaces humans, Atalante is a cobots It's an extension of human will and creativity in every way," he explains Franco Molteni, Director of the Villa Beretta Rehabilitation Center. "This collaborative robot can actually relate and interact with the patient, to the point of supporting their thoughts and intention to move."
For whom is it suitable?
Designed for patients with complete paraplegia, incomplete paraplegia And hemiplegia due to a cerebrovascular event (with an increase in weight). maximum 100 kilos) Atalante allows individuals to stand up and sit down independently and take their first steps without any other aids and only under the supervision of a suitably trained operator.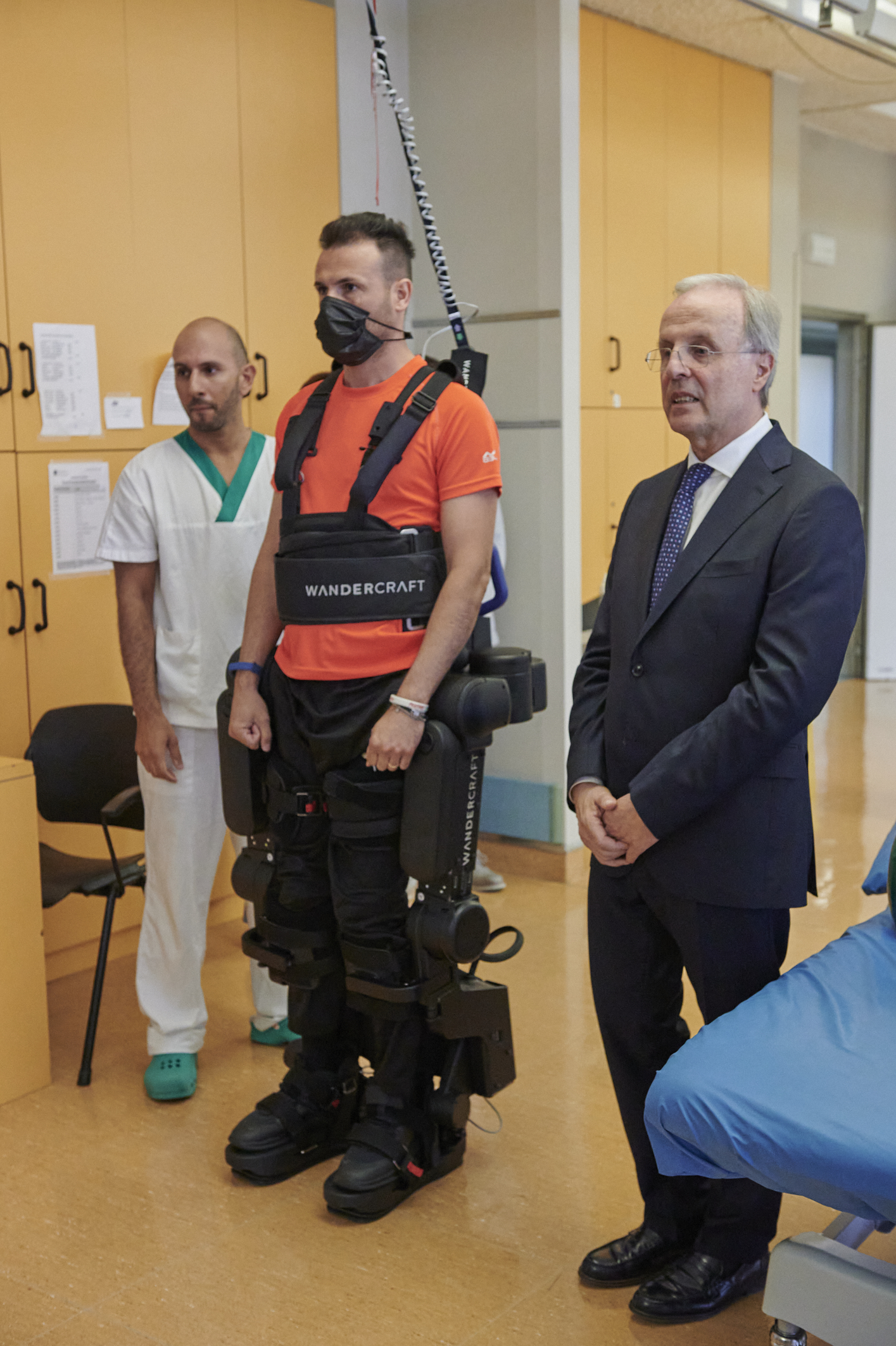 What can you do with the Atalante Cobot?
Thanks to a self-balancing and adjustable walking system with a simple tablet, the patient can do this walk forwards, backwards and sideways. "In addition, the free arm position makes it possible to perform several motor tasks at the same time, such as walking and dribbling"As a result, the patient is not only actively involved in the rehabilitation, but also improves his global coordination and his perception of the surrounding space," confirms Molteni.
Physical Benefits
In this way, mobility becomes dynamic, gait is rehabilitated, the limbs and trunk are strengthened at the muscular level. "Being able to walk with your arms free or just bounce a ball is a biotechnological possibility reclaim the environment"It's an aspect that's ingrained in everyone's DNA, but it's lost when you lose the use of your legs," the director continues.
Cognitive Benefits
Walking and rehabilitation exercises when wearing Atalante also stimulates numerous cognitive functionssuch as attention, memory, self-awareness, interaction with space, bladder and bowel control.
"In fact, some important research has shown that rehabilitation programs conducted with collaborative robotic tools such as the Wandercraft cobot are a Reorganization of the central nervous systemby increasing the synaptic plasticity. Contrary to all assumptions, even in adulthood there are enough biological spaces to initiate regeneration processes in the brain. Environmental, physical and cognitive stimuli, neuromodulation and medication can promote mental plasticity, especially when they work in synergy with each other," Professor Molteni continues.
Also read…